Flying Pig Rig
QRP - woensdag 20 januari 2016 13:04
Finally I finished building the "Flying Pig Rig" after being in a drawer for years. A 40m 5 Watt CW transceiver kit from Kits and Parts dot com!
It's a single frequency QRP CW transceiver that will fit into a small box. It is lightweight and very power economic. It receives and transmits on 7030.7 kHz. The Flying Pig Rig has a build in keyer. I will use it with my LiPo batteries. With 12.3 volt the output power is 4 Watts! It draws 25mA on receive and 630mA on transmit. Compare that for example to the Yeasu FT-817nd which will draw 300mA on receive and 1.9A on transmit!
I plan to use this QRP rig on some SOTA activations later this year.
More info
www.kitsandparts.com
9a2ki
vrijdag 12 februari 2016 10:02
hallo Erwin
thanks for call on 7MHz yesturday..
Your signal was pretty good about 579, via instrunent, and fully readable ewen in QRM...

please , what is your equipment you used in our conntact ???
73de 9a2ki ico
here 100W Dipole up 20m
Ik heb een prijs gewonnen!
QRP - zaterdag 22 september 2012 15:06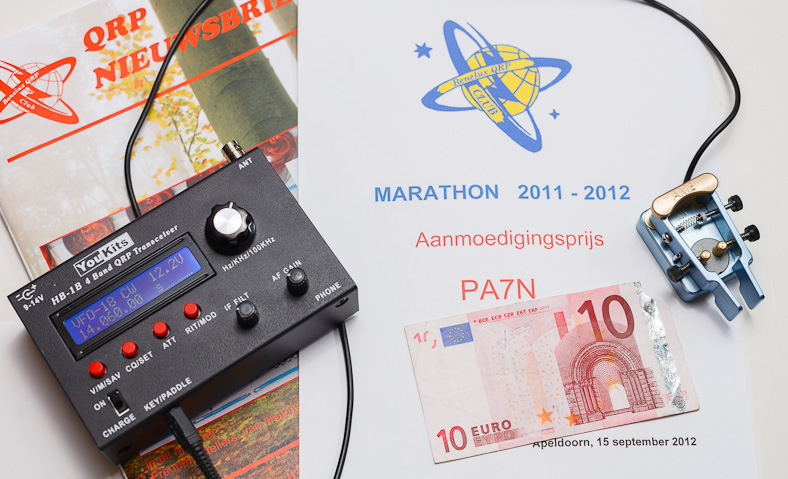 Ik heb een prijs gewonnen! Een aanmoedigingsprijs voor meedoen aan de Marathon van de Benelux QRP Club. Met een score van 58712 eindigde ik op de vijfde plaats (van de zes). 10 Euro!!!
De wedstrijd heet
Marathon
omdat hij een heel jaar duurt. Van 1 juli tot 1 juli. De bedoeling is dat je zoveel mogelijk verbindingen maakt met een zo laag mogelijk vermogen en met zoveel mogelijk verschillende landen. Nu kijken of ik daar het komende jaar overheen kan komen.
PA3GNZ, Tjeerd
donderdag 27 september 2012 21:35
Enthousiast berichtje.

Volgend jaar een plaatsje hoger?

73, Tjeerd

Webmaster BQC
Bert PA1B
donderdag 27 september 2012 23:05
Hallo Erwin, gefeliciteerd met het mooie resultaat. Leuk stukje met een mooie foto. Je hebt een mooie set.
Het is heel leuk om mee te doen in de marathon. De marathon zet aan tot activiteit. Als signalen heel sterk zijn kan je je vermogen in dezelfde verhouding reduceren. Dat levert weer meer punten op. Op 14 MHz kan de propagatie heel goed zijn. Maak je ook wel eens verbindingen in een contest? Die mannen willen iedereeen werken ook al heb je geen oorverdovend signaal. Veel plezier 73, Bert
Ray LaRue
zaterdag 27 april 2013 20:24
I am trying your software for the MiniVNA. I have been using F4CLB's software for a couple years.

Question: Is it possible using your software to measure at the base of a vertical antenna shorter than a 1/4 wave and interpret directly the needed inductance for it to be resonate?

Conversely can an antenna longer than a 1/4 wave be measured with your software and the MiniVNA, directly indicate how much capacitance is needed to resonate it?

Your attention is appreciated.
73,
Ray, W4BYG
Cleveland, TN USA
Hennie
woensdag 4 september 2013 11:21
Wat ontzettend leuk voor je. Moet wel veel werk zijn geweest om daar een heel jaar mee bezig te zijn. Maar goed gedaan hoor. Wie weet ga je er dit keer wel overheen.

Hennie, Amsterdam
Massage Amsterdam, Jiskmassage
paolo petrini
maandag 25 november 2013 13:38
Hello
I downloaded pa7minivna and I tried to compile it on ubuntu 12.04 64 bit with lazarus 0.92 (1.0 does non install)
and as a first error I get:
/usr/lib/lazarus/0.9.30.2/lcl/lconvencoding.pas(27,24) Fatal: Can't find unit iconvenc used by LConvEncoding

any idea?

73 de Paolo IW1ACL SA4BHT