Deprecated
: Function strftime() is deprecated in
/home/internet/www.pa7n.nl/pa7n-utils.php
on line
107
My first SOTA activation!
Summits On The Air - Friday 25 February 2011 23:19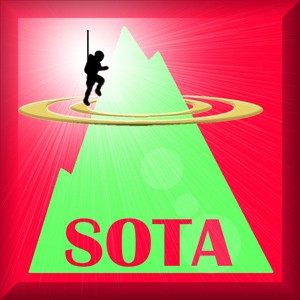 On 23 februari 2011 15:00z I did my first SOTA activation! In Germany on summit DM/RP-003. "Schwarzer Mann" 697m. WX was cloudy temp was about 0C. Not very cold but after an hour, CW transmitting was getting more difficult. I made lots of errors.
The first 15 minutes nobody seems to hear me. But then there was 9A7W. My first SOTA QSO. Then again for 15 minutes nothing. Was my equipment working? Then at 15:32z G3RDQ was in the log. He put my callsign in the spot listing on the sotawatch site. That was when the pile-up started. As a beginner CW OP that was really hard. But I've managed to get 22 QSO's in the log. It was great! Reports where excellent. SOTA is fun!
Used equipment:
Yaesu FT-817ND @ 5 Watts CW 10.121 MHz.
Half wave end fed vertical on 30m band (on 15m fiber mast)
Tiny home-brew QRP longwire tuner
10m RG-58 coax (too long)
Kent paddle (too heavy. must replace this load)
10 x AA NiMh battery pack 12V - 2650 mAh
Magellan Meridian Gold GPS
SOTA sites:
http://www.sota.org.uk/
http://www.sotawatch.org/
http://www.adventureradio.de/
And now the results! 22 QSO's and 13 DXCC's entities worked!
9A DL EA G GM HA HB9 LZ OK OZ PA S5 SM
By activating DM/RP-003 "Schwarzer Mann" I earned my first 6 points. I can't wait until the next activation!
QSO's logged
Date:
23-02-2011
Summit:
DM/RP-003
| | | | | | |
| --- | --- | --- | --- | --- | --- |
| UTC | Call | Band | Mode | RST sent | RST recv |
| 15:15 | 9A7W | 30m | CW | 599 | 599 |
| 15:32 | G3RDQ | 30m | CW | 599 | 579 |
| 15:39 | OK2SMP | 30m | CW | 579 | 599 |
| 15:41 | GM0OAA | 30m | CW | 599 | 579 |
| 15:42 | DK5WL | 30m | CW | 579 | 559 |
| 15:46 | DL1FU | 30m | CW | 599 | 339 |
| 15:48 | HB9BIN | 30m | CW | 599 | 599 |
| 15:50 | OZ4RT | 30m | CW | 599 | 579 |
| 15:52 | OK1ZE | 30m | CW | 599 | 599 |
| 15:53 | EC2DM | 30m | CW | 599 | 599 |
| 15:54 | G4SSH | 30m | CW | 599 | 599 |
| 15:55 | OK1KT | 30m | CW | 599 | 599 |
| 15:56 | G0NUP | 30m | CW | 599 | 599 |
| 15:59 | SM7BUA | 30m | CW | 559 | 559 |
| 16:00 | HA5TI | 30m | CW | 599 | 569 |
| 16:02 | G4OOE | 30m | CW | 599 | 599 |
| 16:03 | PA0WDG | 30m | CW | 559 | |
| 16:05 | S57N | 30m | CW | 599 | 579 |
| 16:07 | S51ZG | 30m | CW | 599 | 599 |
| 16:09 | LZ1GC | 30m | CW | 599 | 559 |
| 16:11 | HA7UG | 30m | CW | 599 | 579 |
| 16:13 | OK2QA | 30m | CW | 599 | 599 |
Deprecated
: Function strftime() is deprecated in
/home/internet/www.pa7n.nl/pa7n-utils.php
on line
168
Mario dc7ccc
Thursday 10 March 2011 11:59
congratulation for your first activation. 30m is always strange for SOTA. sometimes you have a big pile up and sometimes you have problems to get the 4 necessary qso :)

73, Mario dc7ccc
Deprecated
: Function strftime() is deprecated in
/home/internet/www.pa7n.nl/pa7n-utils.php
on line
168
Tonnie
Friday 24 June 2011 16:38
Leuk verslag. In de zomervakantie gaan wij naar Daun, en ik zou daar in de buurt ook wel iets van SOTA willen "activeren."Het dichtste bij is geloof ik de Ernst Berg. 699 meter hoog en 6 points waard.
TenTec 4030 mee en telescoop mast van 10 meter mee.

Groeten Tonnie PA9CW